Is it possible to see the unconditional love of an animal for it's human? What sense does a horse use to judge a person?  What does a person get (physiologically, psychologically and socially) from their connection with an animal?
This is Suzy and her horse Hidalgo.  I was happy for the opportunity to finally meet him on Sunday and witness the connection between horse and rider.
I have known Suzy for many years (she went to school with my son) and recently, at the Fall Fair, we exchanged iPhone contact info so periodically she texts me her latest photos and reminds me of her love for her horse.  "I  still love riding on Hidalgo.  We have 16 sheep here right now." 
Suzy and Hidalgo are part of the local Therapeutic Riding Association that hosted a fundraiser this weekend – The 13th Annual Ride/Walk-a-Thon.  I'm excited to be here to explore the possibility of doing a project with this group.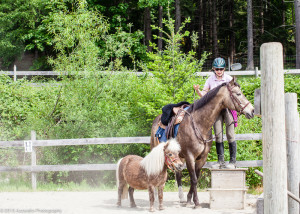 At the riding ring where guests were getting ready for the trail ride to Burgoyne Bay I met Mandy, her dappled horse James and miniature horse Princess Pretty Penny (AKA Penny).
I am repeatedly impressed by the connection that people have with their animals.
About the Salt Spring Therapeutic Riding Association
The Salt Spring Therapeutic Riding Association is dedicated to enriching the lives of children and adults with disabilities through equine assisted activities that improve muscle tone, balance, posture, coordination and motor development as well as psychological, cognitive, behavioral, communication and emotional well being.
I want to see more of this program that puts people with needs together with horses selected for their patience and quiet temperament, and uses that connection/love to support people who need that in their world—physically and emotionally.
To Find Out More
Here are some interesting links:
The healing power of animals is nothing new to us. Their restorative energy has been written about, filmed and documented for many years now.  http://www.huffingtonpost.com/james-van-praagh/the-healing-power-of-anim_b_5072180.html
The role that animals play in creating optimal healing environments has gained recognition in all kinds of health care settings. Animal-assisted therapy (AAT) is an intentional healing modality used to achieve therapeutic goals through a facilitated interaction between patients and trained animals (as therapist) accompanied by human owners or handlers.   http://ajcc.aacnjournals.org/content/17/4/373.short